Hidden ADHD has updated our Terms and Conditions, which are effective as of May 2021 and may be amended here at any time without notice.
If you have any questions about these policies, you can contact us anytime via team@hiddenadd.com to unsubscribe, stop a subscription, or ask about the terms of use or other policies.


Please be sure you read these new Terms and Conditions and all other policies to make sure you understand all changes that may be important to you. Disputes about these Terms and Conditions, services, and websites provided by Hidden ADHD are subject to binding arbitration and a waiver of class action rights detailed below.


PLEASE READ THESE TERMS CAREFULLY. THEY CONTAIN AN ARBITRATION CLAUSE. EXCEPT FOR CERTAIN TYPES OF DISPUTES MENTIONED IN THE ARBITRATION CLAUSE, YOU AND Hidden ADHD AGREE THAT DISPUTES RELATING TO THIS TERMS OR YOUR USE OF OUR SERVICES AND SERVICES WILL BE RESOLVED BY MANDATORY BINDING ARBITRATION, AND YOU WAIVE ANY RIGHT TO PARTICIPATE IN A CLASS-ACTION LAWSUIT OR CLASS-WIDE ARBITRATION.
Terms and Conditions Agreement
This Terms and Conditions Agreement (this "Agreement") contains the terms under which Hidden ADHD ("Company") provides our Services to you and describes how the Services may be accessed and used.
You must read, agree, and accept all terms and conditions contained in this Agreement and expressly referenced in this Agreement, including our
PRIVACY POLICY
, before you subscribe for our Services.
If you will be using the Services on behalf of an entity or other organization, you agree to these Terms on behalf of that entity or organization and you represent that you have such authority. "You" and "your" will refer to that entity or organization.
When you subscribe to our Services, or otherwise use or access the Services, you agree to be bound by these Terms and applicable laws, rules, and regulations. You may be asked to click "I accept" at the appropriate place prior to your purchase of or access to our Services. At such time, if you do not click "I accept", you may not be able to complete your purchase or access our Services. If you do not agree to these Terms, please do not use our Services in any way.
Hidden ADHD is not an accredited educational institution or marketplace or SAAS company. Our users, customers, and partners are not our employees. We are not responsible for any interactions between you and our customers, students, subscribers, or users (collectively, "End-Users"), other than providing the Services for you to interact with our Company. We are in no way liable for any disputes, claims, losses, injuries, or damage of any kind that may arise out of your relationship with End-Users, including any End-Users reliance upon any information or content that you provide or post on our platform.
Fees and Payments
Fees for our Services.
You agree to pay Hidden ADHD any fees for each Services you purchase or use in accordance with the pricing and payment terms presented to you for that Services. Where applicable, you will be billed using the billing method you select through your account management page. If you have elected to pay the fees by credit card, you represent and warrant that the credit card information you provide is correct and you will promptly notify Hidden ADHD of any changes to such information. Fees paid by you are non-refundable, except as provided in these Terms, described upon checkout or when required by law. Included in your fee may be technical support in respect of the Services and it is only provided to Hidden ADHD customers. Hidden ADHD's support agents are not trained in psychological, therapeutic or technical support and Hidden ADHD accepts no responsibility to provide such support.
Subscriptions. Some of our Services are billed on a subscription basis ("Subscriptions"). This means that you will be billed in advance on a recurring, periodic basis (each period is called a "billing cycle"). Billing cycles are typically monthly or annual, depending on what subscription plan you select when purchasing a Subscription. Payment will be charged to your chosen payment method at confirmation of purchase and at the start of every new billing cycle. Your Subscription will automatically renew at the end of each billing cycle unless you cancel your account through your online account management page where applicable, through an app, or by contacting us at team@hiddenadd.com prior to the end of the billing cycle. While we will never want to lose a customer, you may cancel auto-renewal on your Subscription at any time by contacting us at team@hiddenadd.com if you are unable to do so on some of our Platforms, in which case your Subscription will continue until the end of that billing cycle before terminating. You may cancel auto-renewal on your Subscription immediately after the Subscription starts if you do not want it to renew.
If you initially sign up for a plan that includes a free or discounted trial period, and you do not cancel that account before the stated trial period expires, you will be billed for the full price of the plan starting on the day the trial period ends. If you cancel prior to the processing of your first invoice following the trial period, you will not be charged.


We, through our third-party providers (SMASH School, Stripe, PayPal and via some app platforms like Apple App Store or Google Android platforms) will keep your detailed payment information, such as non-sensitive credit card partial numbers and expiration date, on file. We do not access this information, except through provided programmatic methods by the provider(s). You are responsible for keeping your payment details up-to-date by changing the details in your account settings. When your details change or are due to expire, we may obtain or receive from your payment provider updated payment details, including your card number, expiration date, and CVV (or equivalent). This enables us to provide you access to the Services. You authorize us to continue to charge your credit card using the updated information. If a payment is not successfully authorized due to expiration, insufficient funds, or otherwise, we may suspend or terminate your Services or subscription until applicable changes have occurred. You also agree that we may charge you via your payment method on file if you elect to restart your subscription.


Any change (including any upgrade, downgrade or other modification) to any plan by you in a trial period will end the trial immediately. You will be billed for your first term period (i.e. the first annual or monthly period) immediately upon upgrading. For any upgrade or downgrade in plan level after any trial period, your credit, debit, or other payment card will automatically be charged the new rate on your next billing cycle. You will be billed immediately for the prorated difference for the current billing cycle for any upgrade to any higher priced plan during that billing cycle. If a plan downgrade causes a credit to your account, this credit will be used toward your next billing cycle(s). This credit will not be refunded.

Taxes. Our prices listed do not include any taxes, levies, duties or similar governmental assessments of any nature such as value-added, sales, use, or withholding taxes, assessed by any jurisdiction (collectively, "Taxes") unless otherwise indicated. You are responsible for paying Taxes associated with your purchase and keeping your billing information up to date.


(a) United States Sales Tax. If we have a legal obligation to pay or collect sales tax for which you are responsible, we will calculate the sales tax based upon the billing information we have about you and charge you that amount (which, if your billing information is incomplete or inaccurate, may be the highest prevailing rate then in effect), unless you provide us with a valid tax exemption certificate acceptable to the appropriate taxing authority.


If you provide us with a tax exemption certificate, you represent and warrant that it accurately reflects your tax status and that you will keep such document current and accurate.


If we subsequently determine in our sole discretion that your tax exemption document is valid, we will refund the sales tax collected.


(b) Non-United States Sales Tax. If applicable, we will charge you VAT, GST, or any other sales, consumption or use taxes that arise in connection with your purchases of our Services unless you provide us with a tax identification number that entitles you to an exemption, a valid tax exemption certificate or other documentary proof issued by an appropriate taxing authority that tax should not be charged. If you are located in a jurisdiction with multiple sales, consumption, or use taxes, we may charge you the highest prevailing rate if your billing information is incomplete or inaccurate.

If you are required by law to withhold any Taxes from your payments to SMASH School, you must provide SMASH School with an official tax receipt or other appropriate documentation to support such payments.

Price Changes. SMASH School may change the fees charged to you for the Services at any time, provided that, for Services billed on a subscription basis, the change will become effective only at the end of the then-current billing cycle of your Subscription. SMASH School will provide you with advance notice of any change in fees and you will have the opportunity to cancel your Subscription.
Your Content
You Retain Ownership and Responsibility of Your Content.
You retain ownership of all of your intellectual property rights in your Content. "Content" means software (including machine images), data, text, audio, video or images, and personal data. SMASH School does not claim ownership over any of your Content. These Terms do not grant us any licenses or rights to your Content except for the limited rights needed for us to provide the Services to you, and as otherwise described in the Terms.
You represent and warrant to us that: (a) you own or have the necessary licenses, rights, consents, or permissions to use or publish the Content that you include, submit, or use through our Services; and (b) none of your Content or your End-Users' use of your Content or the Services will violate any applicable laws or the Acceptable Use Policy.


Limited License to Your Content. While we do not claim any intellectual property rights over your Content, by uploading the Content through the Services, you grant SMASH School, solely for the limited purposes of providing the Services to you or to use on our platform at our discretion and as otherwise permitted by the Privacy Policy, a worldwide, royalty free license to use, display, make publicly available, and otherwise feature, sell or exploit your Content. This license for such limited purposes continues even after you stop using our Services, with respect to aggregate and de-identified data derived from your Content and any residual backup copies of your Content made in the ordinary course of our business. This license also extends to any trusted third parties we work with to the extent necessary to provide the Services to you. If you submit any feedback or suggestions to us regarding our Services, we may use and share them for any purpose without any compensation or obligation to you.


Copyright and claims for Intellectual Property Infringement. SMASH School fully respects the intellectual property rights of others and we expect our users to do the same. If you believe a SMASH School user is infringing upon your intellectual property rights, you may report it to us by contacting us at team@hiddenadd.com. If the claim is for alleged copyright infringement, we are likely required to respond in accordance with the U.S. Digital Millennium Copyright Act (DMCA). If you believe that your work has been exploited in a way that constitutes copyright infringement, you may notify us in accordance with our Copyright ("DMCA") Policy.


The contents of our Services, as well as any of our content on our affiliated Sites, are protected by copyright and trademark laws, and are the property of their owners. You may not repost or resale any of our content without permission, as it is our protected or proprietary content and assets. Unless otherwise noted, you may access and use the information and materials from the Services for your personal use only. You may not sell, change, modify, delete, display, transmit, adapt, exploit, train from, or copy for distribution any information, material, trademarks, content, or copyright featured in the Services, or any of our affiliated sites, apps, partners, or platforms. You must obtain written permission from us or any other entity who owns intellectual property on our Services before you may publish, distribute, display, or commercially exploit any material, and if you do not gain our written permission you may be held liable for significant damages. By using the Services, you agree to these restrictions and to abide by all copyright notices.


Non-Exclusive Services. We reserve the right to provide our Services to anyone in the world, including to your competitors, and make no promise of exclusivity in any particular market segment. You further acknowledge and agree that SMASH School employees and contractors may also be SMASH School customers and that they may view your information or account, although they may not use your Content or confidential information outside SMASH School policies or procedures.
Privacy
Privacy.
While using the Services, you may submit Content to SMASH School (including your personal data and the personal data of others) or third parties may submit Content to you through the Services. We know that your Content is very important to you and by giving us your Content, you are trusting us to treat it appropriately. SMASH School's Privacy Policy explains how we treat your Content and we agree to adhere to our Privacy Policy. You also agree that SMASH School may use and share your Content in accordance with the Privacy Policy and applicable data protection laws. By using the Services, you acknowledge and agree that SMASH School's collection, usage, and disclosure of your personal information is governed by our Privacy Policy.


GDPR Provisions.
If your business operates within the European Economic Area (EEA), as a SMASH School customer you are operating as a "data controller" of "personal data" of "data subjects" located in the EEA (as those terms are defined in the European General Data Protection Regulation 2016/679 (GDPR). By requesting the Services and agreeing to these Terms and the supporting SMASH School Privacy Policy and Data Processing Addendum, you are providing us with instructions to process any personal data collected by you through our Services, on your behalf and you acknowledge that our use and collection of personal information of any European residents is also subject to Data Processing Addendum. You shall ensure and hereby warrant and represent that you are entitled to transfer personal data to SMASH School so that we may lawfully process and transfer the personal data in accordance with these Terms.


Confidentiality.
SMASH School will treat your Content as confidential information and only use and disclose it in accordance with the Terms (including the Privacy Policy). However, your Content is not regarded as confidential information if such Content: (a) is or becomes public (other than through our breach of the Terms); (b) was lawfully known to SMASH School before receiving it from you; (c) is received by SMASH School from a third party without our knowledge of breach of any obligation owed to you; (d) was independently developed by SMASH School without reference to your Content; or (e) posted by you on any of our sites or apps knowing that others could see your Content. SMASH School may disclose your Content when required by law or legal process, but only after we, if permitted by law, use commercially reasonable efforts to notify you to give you the opportunity to challenge the requirement to disclose.

Security.
SMASH School will store and process your Content in a manner consistent with industry security standards. We try to implement appropriate technical, organizational, and administrative systems, policies, and procedures designed to help ensure the security, integrity, and confidentiality of your Content and to mitigate the risk of unauthorized access to or use of your Content. If SMASH School becomes aware of any unauthorized or unlawful access to, or acquisition, alteration, use, disclosure, or destruction of, personal data related to your account ("Security Incident"), we will take reasonable steps to notify you without undue delay, but if possible within 72-hours of becoming aware of the Security Incident. SMASH School will also reasonably cooperate with you in regards to any investigations relating to a Security Incident by helping to prepare any required notices and providing any other information reasonably requested by you in relation to any Security Incident, where such information is not already available to you in your account or online through updates provided by SMASH School, subject to our Guidelines for Legal Requests.
SMASH School's Intellectual Property
Services License. Neither the Terms nor your use of the Services grants you ownership in the Services or any content you access through the Services (other than your Content). The Terms also do not grant you any right to use SMASH School's trademarks or other brand elements. We or our licensors own all right, title, and interest in and to the Services, and all related technology and intellectual property rights. Subject to the Terms, we grant you a limited, revocable, non-exclusive, non-sublicensable, non-transferable license to access and use the Services solely in accordance with the Terms.

License Restrictions. You may not use the Services in any manner or for any purpose other than as expressly permitted by the Terms. You will not, or will not attempt to (a) modify, distribute, alter, tamper with, repair, or otherwise create derivative works of any Services or any of our tools or proprietary processes; (b) reverse engineer, disassemble, or decompile the Services or apply any other process or procedure to derive the source code of any software or app included in the Services (except to the extent applicable law doesn't allow this restriction); (c) access or use the Services in a way intended to avoid incurring fees or exceeding usage limits or quotas; (d) resell or sublicense the Services; or (e) you shall not use any manual or automated software, devices or other processes (including but not limited to spiders, robots, scrapers, crawlers, avatars, data mining tools or the like) to "scrape" or download data from any apps, sites or tools associated with the Services (except that we grant the operators of public search engines revocable permission to use spiders to copy materials from the Website for the sole purpose of and solely to the extent necessary for creating publicly available searchable indices of the materials, but not caches or archives of such materials).
User Content
User Content.
The Services may display content provided by others that SMASH School does not own. Such content is the sole responsibility of the entity that makes it available. Additionally, you are responsible for your own Content and you must ensure that you have all the rights and permissions needed to use that Content in connection with the Services. SMASH School is not responsible for any actions you take with respect to your Content, including sharing it publicly. Please do not use any Content from or on our Services unless you have first obtained the permission of its owner or are otherwise authorized by law to do so.
Content Review. SMASH School does not have an obligation to monitor or review any Content submitted to the Services nor do we pre-screen any Content. You acknowledge that, in order to ensure compliance with legal obligations, SMASH School may be required to review certain content submitted to the Services to determine whether it is illegal or whether it violates these Terms, including our Acceptable Use Policy (such as when unlawful content is reported to us). We have the sole discretion to modify, prevent access to, delete, or refuse to display content that we believe violates the law or these Terms. It is in our sole discretion to refuse or remove any Content from the Services or platform.


Third Party Resources. SMASH School may publish links or provide information in its Services to internet websites maintained by third parties. We do not monitor or have any control over, and we make no claim or representation regarding any such third party offerings and we accept no responsibility for reviewing changes or updates to, or the quality, content, policies, nature, or reliability of, any such third party offerings. Your use of any third party offerings provided by our Services or a third party website is at your own risk. You should review such third party's applicable terms and policies, including privacy and data gathering practices, and should make whatever investigation you feel necessary or appropriate before proceeding with any transaction with any third party. Trademarks and Content displayed in conjunction with the Services are the property of their respective owners. When you click on a link to a third-party site, ad or app, we will not warn you that you have left SMASH School and are subject to the terms and conditions (including privacy policies) of another website or destination.
Account Management
Keep Your Password Secure.
If SMASH School has issued an account to you in connection with your use of the Services, you are responsible for safeguarding your password and any other credentials used to access that account. You, and not SMASH School, are responsible for any activity occurring in your account, whether or not you authorized that activity. If you become aware of any unauthorized access to your account, you should notify SMASH School immediately at team@hiddenadd.com. Accounts may not be shared and may only be used by one individual or organization per account as purchased.
Keep Your Details Accurate. SMASH School occasionally sends notices to the email address registered with your account. You must keep your email address and, where applicable, your contact details and payment details associated with your account current and accurate.
Remember to Backup. You are responsible for maintaining, protecting, and making backups of your Content. To the extent permitted by applicable law, SMASH School will not be liable for any failure to store, or for loss or corruption of, your Content.


Account Inactivity. SMASH School may terminate your account and delete any Content contained in it if there is no account activity (such as a log in event or payment) at any time at our discretion. However, we will attempt to warn you by email before terminating your account to provide you with an opportunity to log in to your account so that it remains active.
User Requirements
Legal Status. If you are an individual, you may only use the Services if you have the power to form a contract with SMASH School. If you do not have the power to form a contract, you may not use the Services. If you are not an individual, you warrant that you are validly formed and existing under the laws of your jurisdiction of formation, that you have full power and authority to enter into these Terms, and that you have duly authorized your agent to bind you to these Terms
Age and Eligibility. In order to use the Website you must be at least 18 years of age or the legal age to form a binding contract in your jurisdiction if that age is greater than 18 years of age. Individuals who are under the age of 18 or the legal age to form a binding contract in their jurisdiction ("Minors") are prohibited from using the Website. Accordingly, if you are a Minor, please do not attempt to register for the Website or send any information about yourself to us, including your name, address, telephone number, or email address. In the event that we learn that we have collected personal information from a Minor, we will delete that information as soon as reasonably practicable.


Embargoes. You are not permitted to use our Services if you are, or you are owned or controlled directly or indirectly by, any person, group, entity, or nation, named on any list issued by the Department of the Treasury's Office of Foreign Asset Control ("OFAC"), or any similar list or by any law, order, rule, or regulation or any Executive Order of the President of the United States, including Executive Order 13224, as a "Specially Designated National and Blocked Person", terrorist, or other banned or blocked person (collectively, a "Prohibited Person") By using our Services you represent and warrant that (i) you are not (nor are you owned or controlled, directly or indirectly, by any person, group, entity, or nation that is) acting directly or indirectly for or on behalf of any Prohibited Person; (ii) you have not conducted nor will you conduct business nor have engaged nor will you engage in any transaction or dealing with any Prohibited Person in violation of the U.S. Patriot Act or any OFAC rule or regulation, including, without limitation, the making or receiving of any contribution of funds, goods, or services to or for the benefit of a Prohibited Person in violation of the U.S. Patriot Act or any OFAC rule or regulation; (iii) you are not prohibited by any sanctions program as maintained by OFAC from using SMASH School's Services, including those sanctions programs currently in effect with respect to Iran, North Korea, or Venezuela.


Furthermore, it is your responsibility to ensure that you do not provide access to the Services to any Prohibited Persons.

Compliance with Laws. You must always use the Services in compliance with, and only as permitted by, applicable laws. There are various federal, state, and international specific laws, requirements, guidelines, and/or standards (collectively, "Laws") that apply or may potentially apply to your Content, business, websites, and/or mobile applications, including, but not limited to those related to privacy and data security (such as the California Consumer Privacy Act (CCPA) or the EU General Data Protection Regulation (GDPR)), the accessibility of websites and/or mobile applications, taxes, the Health Insurance Portability and Accountability Act (HIPAA), and subscriptions and auto-renewals. SMASH School is not HIPAA compliant and currently we have no plans to become so. Accordingly, you may not use the Services to collect, store, or process any protected health information subject to HIPAA, any applicable health privacy regulation, or any other applicable law governing the processing, use, or disclosure of health information. Any information provided by SMASH School in content, help articles, examples, or the like are provided for informational purposes only and are provided without any warranty, express or implied, including as to their legal effect and completeness. SMASH School cannot provide you with any therapeutic, financial or legal advice and encourages you to consult with professionals of your own selection and at your own expense. You agree that you are solely and exclusively responsible for your Content and the entirety of your Content, including compliance with Laws.
User Organized Meetings
SMASH School provides tools that allow users to organize and host online meetings and events with other users of the Services ("SMASH Community Pod Meetings"). SMASH School does control the meetings. Your attendance or participation in the meetings is solely at your own risk. You understand that SMASH School does not in any way screen the organizers of meetings or any other users of the Services, nor does SMASH School attempt to verify the statements of the organizers of meetings or any other users on the Website. SMASH School is not responsible or liable in any manner for any loss or damage arising out of your attendance or participation in any meeting, and you hereby waive and release SMASH School from any and all claims arising from or related to your participation in any meeting. All users must adhere with the community guidelines and Terms of Service outlined herein, but SMASH School does not control the actions of all users. If you feel another user has violated these Terms, please let us know at team@hiddenadd.com.
Acceptable Uses
Access to the Website and Restrictions on Your Use
SMASH School grants you a limited, revocable, nonexclusive, non-transferable license to access our Website and use our Products and Services for your own personal use only. You may not download or modify any portion of the Website except as expressly permitted by SMASH School. No Materials (as defined hereinbelow) from the Website may be copied, reproduced, republished, uploaded, posted, transmitted, or distributed in any way without our express, written permission. Violation of these Terms results in the automatic termination, without notice, of your license to access the Website and also may constitute the infringement of SMASH School's copyright, trademark and/or other rights. You agree not to access or try to access any computer system of SMASH School, its programs or its data that are not made available for public use. Except as expressly stated herein, you are not granted any right or license, by implication, estoppel, or otherwise, in or to any patent, trademark, copyright, or proprietary right of SMASH School or any third party, in connection with your use of the Website and any Materials provided by SMASH School or any third party on the Website. Elements of the Website, including custom graphics, images, logos, page headers, sounds, button icons, and the "look and feel" of the Website (including its design, layout, color combinations, button shapes and other graphical elements) are protected by copyright, trade dress and other state and federal laws and may not be copied or imitated, in whole or in part.
You agree that you will not do any of the following:
Use any data mining, robots, spiders, or similar data-gathering and extraction methods within the Website or in any way reproduce or circumvent the navigational structure or presentation of the Website or its contents.
Circumvent, disable or interfere with the security of the Website or features that prevent, limit or restrict use or copying of the Website or any Materials.
Copy, reproduce, republish, upload, post, transmit, or distribute in any way any Materials, in whole or in part, without our written permission, other than as expressly allowed by us.
Transmit any software or other materials containing viruses, worms, Trojan horses, defects, date bombs, time bombs or other destructive or harmful items.
Modify, adapt, sub-license, translate, sell, reverse engineer, decompile or disassemble any portion of the Website or attempt to derive any source code or underlying ideas or algorithms on the Website.
Do anything that imposes or may impose, in our sole judgment, an unreasonable or disproportionately large load on our (or our third party providers') infrastructure.
"Frame" or "mirror" the Website or any part.
Use the Website or any Materials for any unlawful purpose.
Spam or flood.
Resell or make commercial use of the Website or Materials; or (b) make any derivative use of the Website or Materials.


We may, at any time and without notice, remove any Content and suspend or terminate your account or access to our Services if you engage in any of the activities that violate the policies herein, including activities outside of your use of the Services.
We have the right, but not the obligation, to monitor or investigate any Content and your use of the Services at any time for compliance with these terms or any other agreement between you, SMASH School or related parties governing your use of the Services. Our determination of whether a violation of any of these terms has occurred will be final and binding and any action taken with respect to enforcing this policy or any other terms, including taking now action at all, will be at our sole discretion.
11. Termination and Cancellation of Accounts
11.1 Either Hidden ADHD or you may terminate your Account. If We terminate your Account, you will be notified by email and an explanation for the termination will be provided. Notwithstanding the foregoing, We reserve the right to terminate without giving reasons.
11.2 If We terminate your Account, any current or pending orders or payments on your Account will be cancelled and provision of Services will not commence.
12. Services, Pricing and Availability
12.1 Whilst every effort has been made to ensure that all general descriptions of Services available from Hidden ADHD correspond to the actual Services that will be provided to you, We are not responsible for any variations from these descriptions as the exact nature of the Services may vary depending on your individual requirements and circumstances. This does not exclude Our liability for mistakes due to negligence on Our part and refers only to variations of the correct Services, not different Services altogether. Please refer to sub-Clause 13.8 for incorrect Services.
12.2 Where appropriate, you may be required to select the required Plan of Services.
12.3 We neither represent nor warrant that such Services will be available at all times and cannot necessarily confirm availability until confirming your Order. Availability indications are not provided on the Website.
12.4 All pricing information on the Website is correct at the time of going online. We reserve the right to change prices and alter or remove any special offers from time to time and as necessary.
12.5 In the event that prices are changed during the period between an order being placed for Services and Us processing that order and taking payment, then the price that was valid at the time of the order shall be used.
13. Orders and Provision of Services
13.1 No part of this Website constitutes a contractual offer capable of acceptance. Your order constitutes a contractual offer that We may, at Our sole discretion, accept. Our acceptance is indicated by Us sending to you an order confirmation email. Only once We have sent you an order confirmation email will there be a binding contract between Hidden ADHD and you.
13.2 Order confirmations under sub-Clause 13.1 will be sent to you before the Services begin and shall contain the following information:
13.2.1 Confirmation of the Services ordered including full details of the main characteristics of those Services;
13.2.2 Fully itemised pricing for the Services ordered including, where appropriate, taxes, delivery and other additional charges;
13.2.3 Relevant times and dates for the provision of the Services;
13.2.4 User credentials and relevant information for accessing those services.
13.3 If We, for any reason, do not accept your order, no payment shall be taken under normal circumstances. In any event, any sums paid by you in relation to that order will be refunded within 14 calendar days.
13.4 Payment for the Services shall be taken via your chosen payment method, immediately for any setup fee that corresponds to the service plan you purchased and at the same day of each subsequent month ("billing cycle") for charges accrued during the previous month ("billing cycle") AND/OR as indicated in the order confirmation you received.
13.5 We aim to fulfill your Order within 2-3 working days or if not, within a reasonable period following your Order, unless there are exceptional circumstances. If we cannot fulfill your Order within a reasonable period, we will inform you at the time you place the Order by a note on the relevant web page or by contacting you directly after you place your Order. Time is not of the essence of the Contract, which means we will aim to fulfill your Order within any agreed timescales but this is not an essential term of the Contract and we will not be liable to you if we do not do so. If the Services are to begin within 14 calendar days of Our acceptance of your order, at your express request, you will be required to expressly acknowledge that your statutory cancellation rights, detailed below in Clause 14, will be affected.
13.6 Hidden ADHD shall use all Our reasonable endeavours to provide the Services with reasonable skill and care, commensurate with best trade practice.
13.7 In the event that Services are provided that are not in conformity with your order and thus incorrect, you should contact Us immediately to inform Us of the mistake. We will ensure that any necessary corrections are made within five (5) working days.
Additional terms and conditions may apply to the provision of certain Services. You will be asked to read and confirm your acceptance of any such terms and conditions when completing your Order.
13.8 Hidden ADHD provides technical support via our online support forum and/or phone. Hidden ADHD makes every effort possible to respond in a timely manner but we do not guarantee a particular response time.
14. Cancellation of Orders and Services
We want you to be completely satisfied with the Products or Services you order from
Hidden ADHD
. If you need to speak to us about your Order, then please contact customer care by email at
training@hiddenadd.com
or write to us at our address (see section 1 above). You may cancel an Order that we have accepted or cancel the Contract. If any Specific Terms accompanying the Service contain terms about cancelling the Service, the cancellation policy in the Specific Terms will apply.
14.1 If you are a consumer based within the European Union, you have a statutory right to a "cooling off" period. This period begins once your order is confirmed and the contract between Hidden ADHD and you is formed and ends at the end of 14 calendar days after that date. If you change your mind about the Services within this period and wish to cancel your order, please inform Us immediately using the following email: billing@hiddenadd.com. Your right to cancel during the cooling off period is subject to the provisions of sub-Clause 14.2.
14.2 As specified in sub-Clause 13.6, if the Services are to begin within the cooling off period you are required to make an express request to that effect. By requesting that the Services begin within the 14 calendar day cooling off period you acknowledge and agree to the following:
14.2.1 If the Services are fully performed within the 14 calendar day cooling off period, you will lose your right to cancel after the Services are complete.
14.2.2 If you cancel the Services after provision has begun but is not yet complete you will still be required to pay for the Services supplied up until the point at which you inform Us that you wish to cancel. The amount due shall be calculated in proportion to the full price of the Services and the actual Services already provided. Any sums that have already been paid for the Services shall be refunded subject to deductions calculated in accordance with the foregoing. Refunds, where applicable, will be issued within 5 working days and in any event no later than 14 calendar days after you inform Us that you wish to cancel.
14.3 Cancellation of Services after the 14 calendar day cooling off period has elapsed shall be subject to the specific terms governing those Services and may be subject to a minimum contract duration.
15. Privacy
Use of the Website is also governed by Our
Privacy Policy
which is incorporated into these Terms and Conditions by this reference. To view the Privacy Policy, please click on the link above.
16. How We Use Your Personal Information (Data Protection)
16.1 All personal information that We may collect (including, but not limited to, your name and address) will be collected, used and held in accordance with the provisions of the Data Protection Act 1998 and your rights under that Act.
16.2 We may use your personal information to:
16.2.1 Provide Our Services to you;
16.2.2 Process your payment for the Services; and
16.2.3 Inform you of new products and services available from Us. You may request that We stop sending you this information at any time.
16.3 In certain circumstances (if, for example, you wish to purchase Services on credit), and with your consent, We may pass your personal information on to credit reference agencies. These agencies are also bound by the Data Protection Act 1998 and should use and hold your personal information accordingly.
16.4 We will not pass on your personal information to any other third parties without first obtaining your express permission.
17. Disclaimers
17.1 We make no warranty or representation that the Website will meet your requirements, that it will be of satisfactory quality, that it will be fit for a particular purpose, that it will not infringe the rights of third parties, that it will be compatible with all systems, that it will be secure and that all information provided will be accurate. We make no guarantee of any specific results from the use of our Service or Services.
17.2 No part of this Website is intended to constitute advice and the Content of this Website should not be relied upon when making any decisions or taking any action of any kind.
17.3 No part of this Website is intended to constitute a contractual offer capable of acceptance.
17.4 Whilst We use reasonable endeavours to ensure that the Website is secure and free of errors, viruses and other malware, you are strongly advised to take responsibility for your own internet security, that of your personal details and your computers.
18. Changes to the Facilities and these Terms and Conditions
We reserve the right to change the Website, its Content or these Terms and Conditions at any time. You will be bound by any changes to the Terms and Conditions from the first time you use the Website following the changes. If We are required to make any changes to these Terms and Conditions by law, these changes will apply automatically to any orders currently pending in addition to any orders placed by you in the future.
19. Availability of the Website
19.1 The Website is provided "as is" and on an "as available" basis. Hidden ADHD uses industry best practices to provide a high uptime, including a fault-tolerant architecture hosted in cloud servers. We give no warranty that the Website or Facilities will be free of defects and / or faults and we do not provide any kind of refund for outages. We provide no warranties (express or implied) of fitness for a particular purpose, accuracy of information, compatibility and satisfactory quality.
19.2 We accept no liability for any disruption or non-availability of the Website resulting from external causes including, but not limited to, ISP equipment failure, host equipment failure, communications network failure, power failure, natural events, acts of war or legal restrictions and censorship.
20. Limitation of Liability
20.1 To the maximum extent permitted by law, We accept no liability for any direct or indirect loss or damage, foreseeable or otherwise, including any indirect, consequential, special or exemplary damages arising from the use of the Website or any information contained therein. You should be aware that you use the Website and its Content at your own risk.
20.2 Nothing in these Terms and Conditions excludes or restricts .
20.3 Nothing in these Terms and Conditions excludes or restricts Hidden ADHD's liability for any direct or indirect loss or damage arising out of the incorrect provision of Services or out of reliance on incorrect information included on the Website.
20.4 In the event that any of these terms are found to be unlawful, invalid or otherwise unenforceable, that term is to be deemed severed from these Terms and Conditions and shall not affect the validity and enforceability of the remaining Terms and Conditions. This term shall apply only within jurisdictions where a particular term is illegal.
21. No Waiver
In the event that any party to these Terms and Conditions fails to exercise any right or remedy contained herein, this shall not be construed as a waiver of that right or remedy.
22. Previous Terms and Conditions
In the event of any conflict between these Terms and Conditions and any prior versions thereof, the provisions of these Terms and Conditions shall prevail unless it is expressly stated otherwise.
23. Third Party Rights
Nothing in these Terms and Conditions shall confer any rights upon any third party. The agreement created by these Terms and Conditions is between you and Hidden ADHD.
24. Communications
24.1 All notices / communications shall be given to Us either by post to Our Premises (see address above) or by email to training@hiddenadd.com. Such notice will be deemed received 3 days after posting if sent by first class post, the day of sending if the email is received in full on a business day and on the next business day if the email is sent on a weekend or public holiday.
24.2 We may from time to time, if you opt to receive it, send you information about Our products and/or services. If you do not wish to receive such information, please click on the 'Unsubscribe' link in any email which you receive from Us.
25. Law and Jurisdiction
These Terms and Conditions and the relationship between you and Hidden ADHD shall be governed by and construed in accordance with the Law of England and Wales and Hidden ADHD and you agree to submit to the exclusive jurisdiction of USA.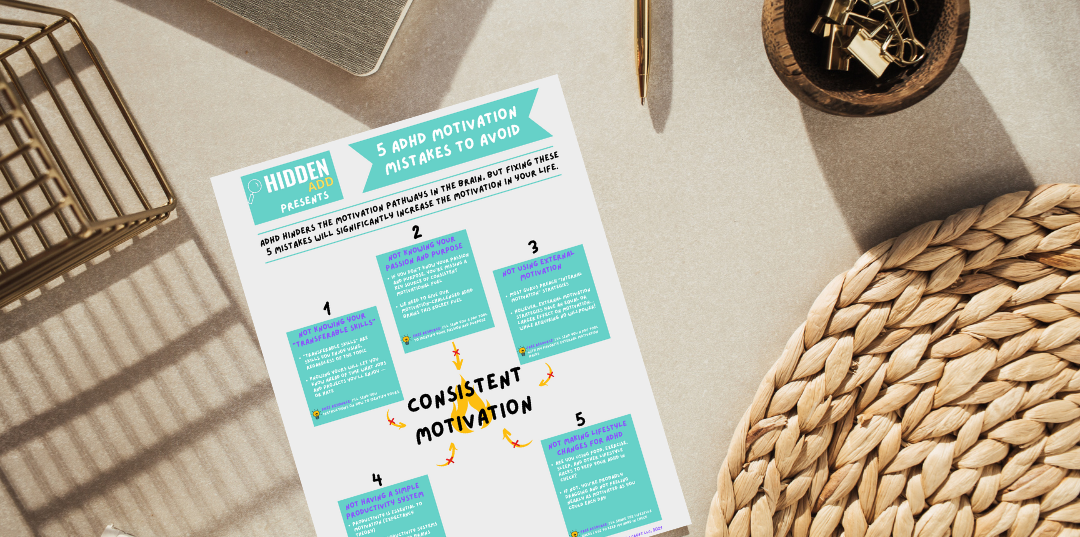 Get the Free Guide!
Sign up to the email course!
Created with