Transformed Productivity in 6 Weeks!
OR YOUR MONEY BACK

INATTENTIVE ADHDers
, tell me if this is you:


You always
feel behind
.

You never have enough time.

You
beat yourself up
for procrastinating on your goals...

And you feel like the game is rigged against you...
No matter how HARD you try, you just CAN'T WIN...


And after all the YEARS OF LIVING WITH THIS, you still have no idea why:
Your motivation is so unreliable

You feel overwhelmed

You feel out of control
It just doesn't seem fair.


Does that sound familiar? As an Inattentive ADHDer, I have been there.

While I could finally hold down a job after my ADHD diagnosis at 34, the jobs were still soul-sucking. But it was OK because I would start a business!

There was just one TINY problem...

I put business to-do items on my list.

But every week, I COULDN'T GET MYSELF to do them. 😭
I thought I would be trapped in soul-sucking jobs forever.
So, I spent two hours googling "how to be productive".
But I had ALREADY TRIED most of the tactics.

Right when I gave up, I had an EPIPHANY!

I had tried the tactics before, but I hadn't tried:



Doing them all simultaneously
Making them ADHD-friendly

This changed everything.

I pieced together a system using neurotypical best practices that was easy enough for me to do consistently.

I used my M.S. in coaching psychology and 20 years of self-education in psychology to make productivity fun, rewarding, and AUTOMATIC.

Hi, I'm Aron.
Applying this system gave me freedom for the first time ever.

While working full-time:
I took on more responsibility at my job while working less

Read over 75 books,

Published 25+ articles

Filmed over 50 YouTube videos

Grew side hustle to what is now 100,000+ followers
And then I shared the core practices with my ADHD clients and it transformed their productivity.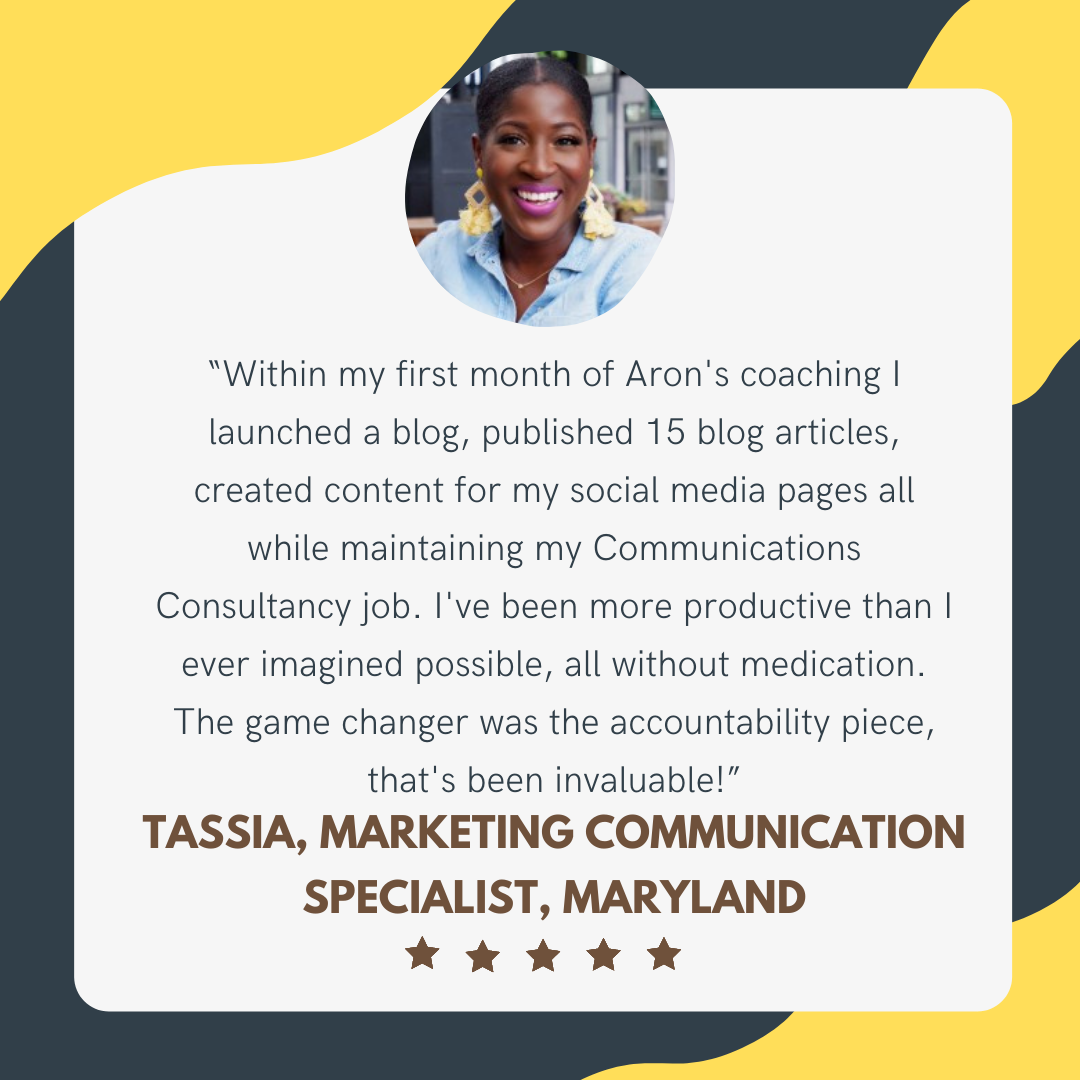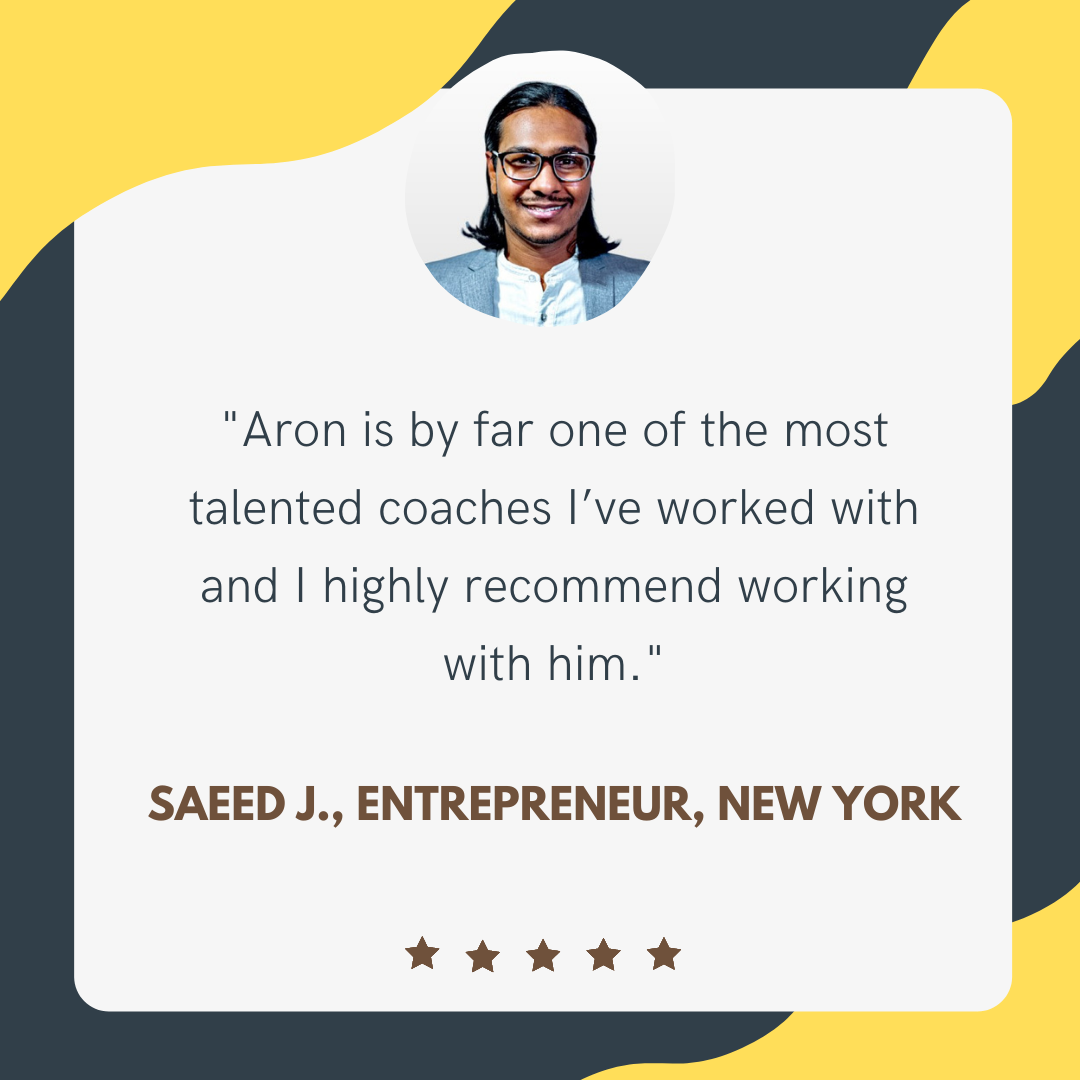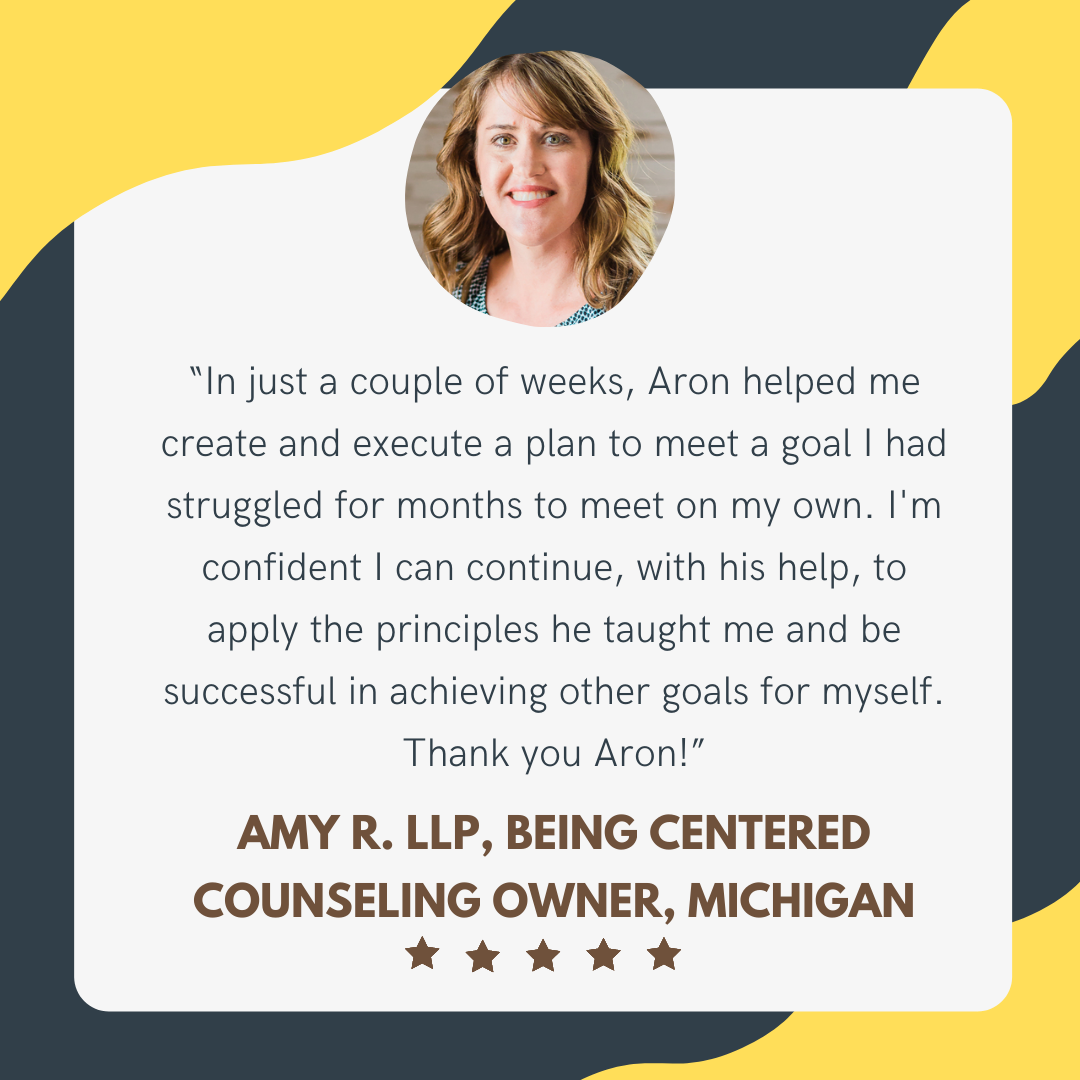 So I put together the Productivity Transformation Academy to show Inattentive ADHDers that productivity is not just achievable but fun and rewarding.
But

it was a journey to get here

: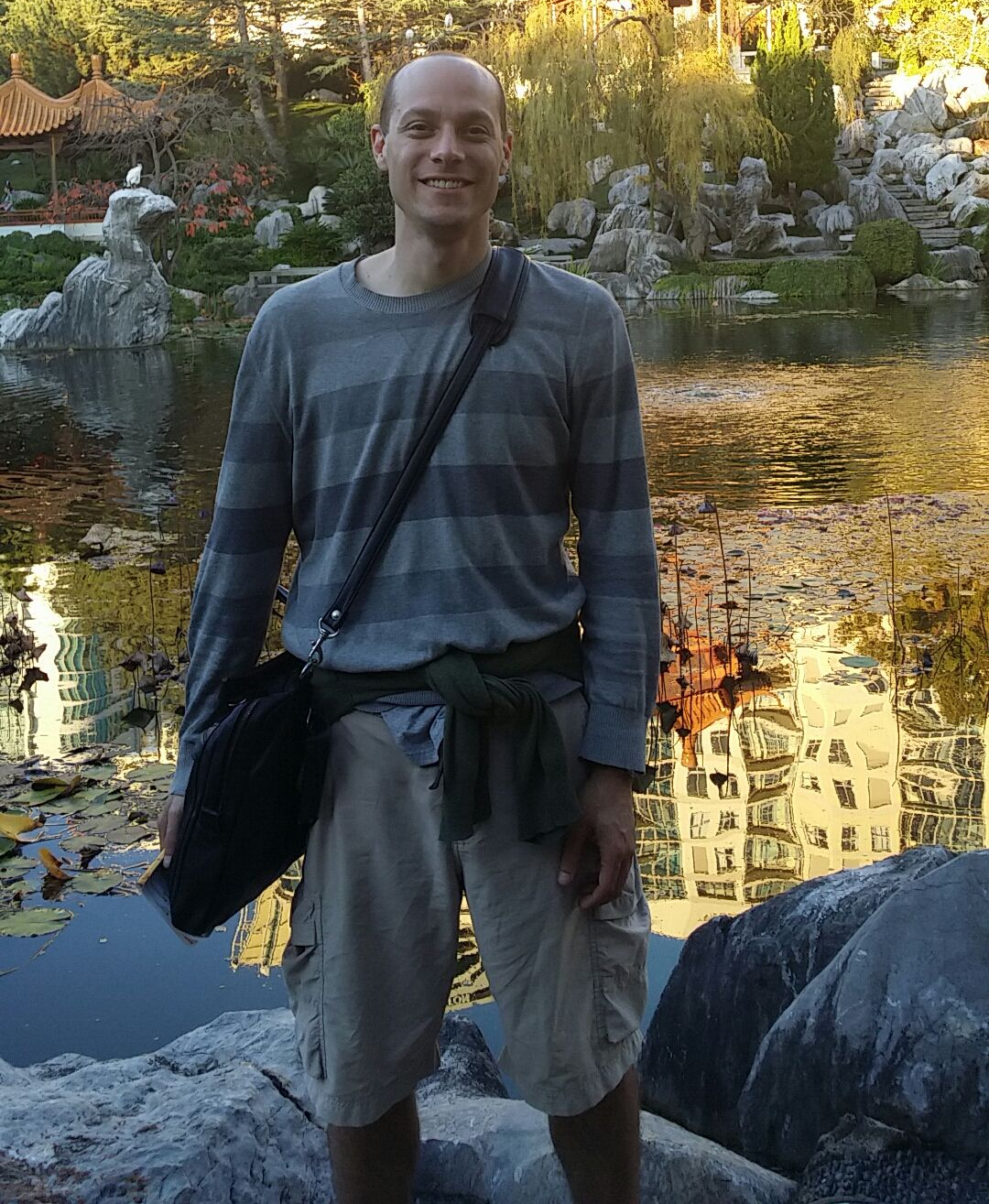 Even after my ADHD diagnosis, I would smoke weed every night and weekend. Many nights, I would stay home to smoke rather than spend time with friends or family.


As a result, I got more depressed. Even though I held down a job for the very first time, I was still just surviving.
Then I stumbled across a coach who said to use strategies tailored to our unique ADHD brains.
As I used ADHD-targeted strategies,

I achieved milestones I never thought possible

:
It is very foreign for us to feel:
Daily wins which generate momentum

Increased Confidence

Greater Self-Acceptance and Compassion

Renewed excitement for your future and what you can achieve
But you can have those things.


What do you want to achieve…?
Able to achieve progress on a task without suffering

Feeling accomplished each week and ready to enjoy the weekend

Not feel like crap because you procrastinated
I've walked this path and guided many others down it. I'll guide you every step of the way.

Not many people can afford my 1:1 coaching price of $5,000, so I wondered if I could develop a more affordable option that would enable me to help more people.

I looked at all of my client work and noticed a startling pattern. Despite the surface differences in their issues, the same exact behavioral changes made massive differences for all of them. I couldn't believe the amount of overlap!

So, I packaged up the most powerful interventions that applied to every client and am delivering them at a fraction of the cost.

How It Works
Weekly LIVE Mastermind with Aron
Weekly group coaching call with Aron to troubleshoot challenges and do live coaching. It's a recorded call and held every week at Friday, 1-2:30 PM CT.
My most powerful coaching content, delivered on-demand each week.
Daily accountability to complete your "big to do" each day via group platform.
Four-Person Success Teams
A four-person Accountability Team that will engage in friendly head-to-head competitions with other groups
You are surrounded by ADHDers who understand the struggle and are pushing through it with you.
Goal setting that works
6-Week Vision of Massively-Productive-You -- An Image You'll be Dripping with Excitement to create
The 8 hour workday is a myth, but this unrealistic expectation kills productivity
Learn how to skyrocket your output by only working hard for 3% of your day
You and your classmates will put the practice into action
Pings, dings, and rings are productivity killers
Manage them easily with the eliminate-distractions-easily cheat sheet
You and your classmates will put the practice into action

The secret to ADHD success is getting "addicted" to the dopamine from completing worthwhile tasks
But common something blocks our ability to do so and destroys our productivity as a result
You and your classmates will learn the secret and put the practice into action
Many ADHDers quit when they're on the right path, destroying their productivity
Why? Because they don't know what the cycle of change actually looks like
In this module, you'll learn the secret to never giving up
Lack of a plan kills motivation and then productivity suffers
But we've all tried planning before and it never "sticks"
You'll learn the ultimate week planning guide that's so easy you'll wonder if it's legal
You and your classmates will put the practice into action
Maintaining habits can be tricky
You'll learn how to keep your momentum going so 6 kick-ass weeks turns into 6 kick-ass months

It's the exact system that has allowed my clients to make impressive gains such as:

Making more progress on a side hustle in one month than in the past three years

Switching from procrastinating on a half-written novel that sat untouched for over 12 months to a daily writing habit, completing the novel, and already starting the next one.

Procrastinating for 3 months on PhD work to jamming out two publications in two weeks and building massive momentum and confidence

Going from no blog to one article per week to one article per day – in just one month's time

Getting on top of business paperwork after a lifelong history of it hampering the client's business growth and personal confidence

Your Investment
My 1:1 coaching costs over $5,000.
So, I wanted to put together an affordable solution that still delivered MASSIVE results.


I've spent over $100,000 learning psychology and personal development over the past 20 years, and I've put every ounce of that into developing this program.


I spent over a year perfecting this program, testing it with dozens of guinea pigs until it made a difference reliably.


Just think for a minute.


Imagine being 1% more productive every year for the next 20 years.


What if you were 5% more productive every year for the next 20 years?


Developing this habit is like popping a Limitless Pill and getting a return on productivity every year for the next 20, 30, or 40 years of your life.
While comparable programs cost up to $3,000, and my coach insists on a $1,497 price, I refuse.


As CEO, I decided on the low price of $997.


But I'm feeling a little crazy (and I want to reward first movers), so I'm offering the
Early Bird special $497 (only 20 spots, expires December 10th).
6 weeks of productivity-training-so-ADHD-friendly-you'll-laugh to get 1 to 10 hours of increased productivity each week (1 hr/wk @ $50/hr = $2,500 Value)

The I'm-way-behind-on-my-tasks Weekly Study Hall to catch up on tasks with other classmates serving as body doubles ($100 Value)

Our Am-I-Really-Working Gamification system that will make your 6 weeks of effort feel fun and easy

($300 Value)

You're-not-alone Success Teammates (3-5) in the program who keep you connected and on track each week

(Priceless)
Plus these bonuses:
BONUS 1:
6-Week Vision of Massively-Productive-You -- An Image You'll be Dripping with Excitement to create
(Value $100)
BONUS 2:
Aron's save-yourself-costly-missteps cheat sheet of the Top Business Tactics that apply across industries.
(Value $1,000)
BONUS 3:
The ultimate week planning guide that's so easy you'll wonder if it's legal
(Value $500)
BONUS 4:
Track your goals, plans, and insights each week in our powerful coaching software
(Value $200)
BONUS 5:
Done-for-you zoom links and team chat rooms so you and your Success Team can get going fast
(Value $100)
BONUS 6:
The better-than-art printable poster of 10 core quotes that will get you feeling motivated and productive, so you stay on track
(Value $50)
BONUS 7:
The be-more-productive-by-improving-sleep master cheat sheet to get better sleep each night
(Value $200)
BONUS 8

:
The Whoa-I'm-not-alone-nor-broken Happy Hour with your goal-driven ADHD classmates
(Value $100)
BONUS 9:
Tap Into Aron's $25,000 Network -- If you need a resource, Aron can ask for recommendations in his $25,000 worth of entrepreneurial groups
(Value $500)
Total Value with Bonuses: Over $7,500
Register Now for Only $497!

Who the coaching group is

NOT

for:
If you are surrounded by peers who are actively growing and pursuing dreams...

If you're able to share your dreams freely and without embarrassment with them...

If you have someone who helps you follow through with your weekly plans...

If your peer group actively encourages you to reach your potential...
For others, this coaching group is where:
You can share your wildest goals without any embarrassment.

You can freely share all your struggles without shame or guilt.

You can get advice and support — others in the group may have the same goal or achieved it in the past.

You can have accountability buddies that cheer you on and challenge you.
Get Results Like These
"I've accomplished more than I have in weeks, months and even years. Things that I've been trying to do for years, I've been able to do in the last few weeks."
Haumea H., Coach
"I've been suffering from undiagnosed ADD, and Aron's course gave me simple tools I've been able to implement into my day easily."


- Dmitri, Entrepreneur, Los Angeles
"Aron has given me the tools to absolutely crush the learning curve of productivity and ADHD. Because of him, I've started to dream again."

- Chris, Sergeant, United States Army, Michigan
"Aron has helped me take control of my schedule and create a more productive routine. He goes the extra mile to ensure that clients get what they need from his coaching. Aron is by far one of the most talented coaches I've worked with and I highly recommend working with him."

- Saeed J., Entrepreneur, New York
"As someone diagnosed with ADHD at 40 and now
starting
my own business
, I
struggled with working
on my own from home, getting distracted and
not completing
enough important tasks. Aron's training
really made a difference
for me."

- Ian V, Consultant, Germany
"I've done more in the last few days than in the last two years with the information you are providing."



- Rosario, Non-profit Caseworker, US
"I made more progress on my business in the past 3 weeks than I did in the past 3 years with this approach.
"

- A. Larsen, Small Business, Denmark
"Your videos and trainings are SO SO USEFUL. I know you must hear this a lot, but words cannot even describe how much I feel understood in hearing your stories and the difficulties you had."

A. Larsen, Small Business, Denmark
Jane W, Content Producer, Los Angeles
Peter S, Herbalife Distributor, UK
I've invested in programs before and then haven't used them, why would this be any different?
Firstly, this isn't like any other program you've done before. This isn't a bunch of videos and you're on your own to do the work. This program is set up for ADHDers who all have that same issue.
You will be reporting your one tough action daily on the platform. If you miss two in a row, we reach out to you.
A Success team. You are paired with 4 teammates and you jointly help each other succeed.
Weekly study halls to catch up on any work
Weekly group coaching from me where you can raise your hand and get laser coaching
Points and awards to make the process more fun
What if I don't like the program?
I hate risk. I am one of the most risk-averse people I know. So buyer's remorse terrifies me. That's why I've added the guarantees I wish every creator was willing to stand behind. They put the risk on me rather than on you.
2-week This-Aint-For-Me-See-Ya 100% Refund



You don't pay for a house until you've done a home inspection. Once you've been inside the program's "house", if it isn't for you, that's cool! No reason needed. Just send a one-line email to team@hiddenadd.com and you'll get a refund confirmation back. #easybutton

6-week If-You're-Not-Satisfied-I'm-Not-Satisfied 100% Refund

I can't promise you'll hit your goal because I can't do your tasks for you. So instead I promise all of the coaching, systems, team support, and program support you get from me will be worth more than your investment in the program. But if you don't feel you got your money's worth, you can have it back! Just send an email to team@hiddenadd.com. Pretty cool, huh?

You will be held to these commitments and removed from the group if you do not comply.
Weekly LIVE Mastermind call with Aron (90 minutes/week)

Complete weekly training videos and the homework assignment (~1 hour/week)

Meet with your four-person Success Team weekly (30-60 minutes/week)

Post on the group platform your "big to do" for the day — and indicate how you did on yesterday's post (5-10 minutes/day)

Share your thoughts about how to improve the program via 1-2 quick surveys weekly (15 minutes/week)

Sign up to the email course!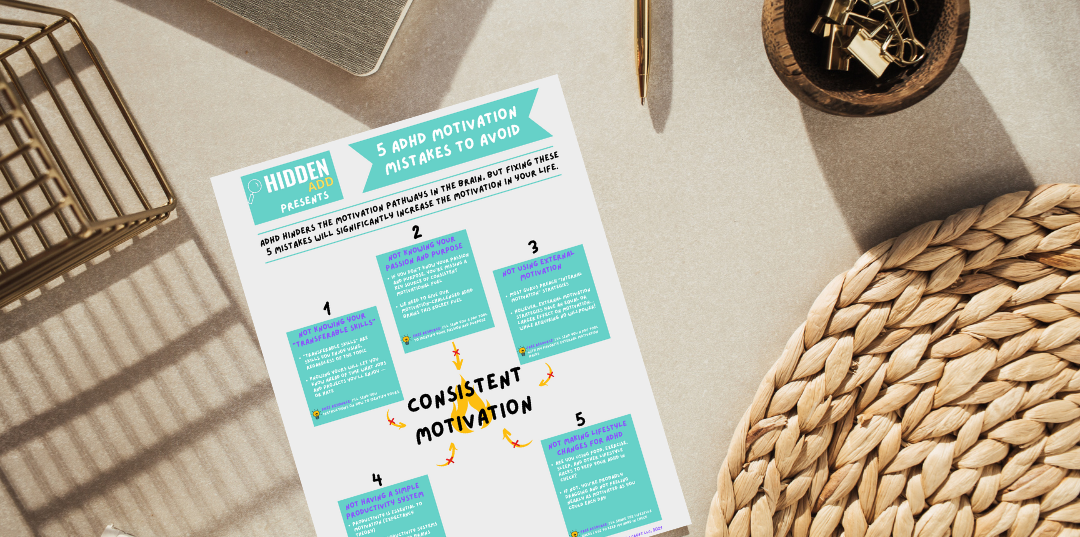 Get the Free Guide!
Created with